Spread the Word and See you there!!
Sal Solo Event in Halston Street, Knockmitten Church Clondalkin & Holy Rosary Church in Tallaght
As lead singer for British band CLASSIX NOUVEAUX in the 1980s, SAL SOLO toured the world, giving concerts in numerous countries, and achieving hits such as IS IT A DREAM and GUILTY. After CLASSIX NOUVEAUX, he hit the UK Top 20 with SAN DAMIANO. In 1991, he began to release specifically Christian albums and give concerts. In 1999, he left the UK for the USA, where he continues to this day speaking at large events, conferences and retreats throughout the US.
Sal Solo will be visiting:
St. Michan's in Halston Street on Sunday, 15th October at 12 noon Mass
Knockmitten Church, Clondalkin on Monday 16th Oct @ 7:30pm
Holy Rosary Church on Tuesday 17th Oct @ 7:30pm
for an evening of music and inspiration presenting We Can Change the World – come along to this free event – All welcome – Cuppa afterwards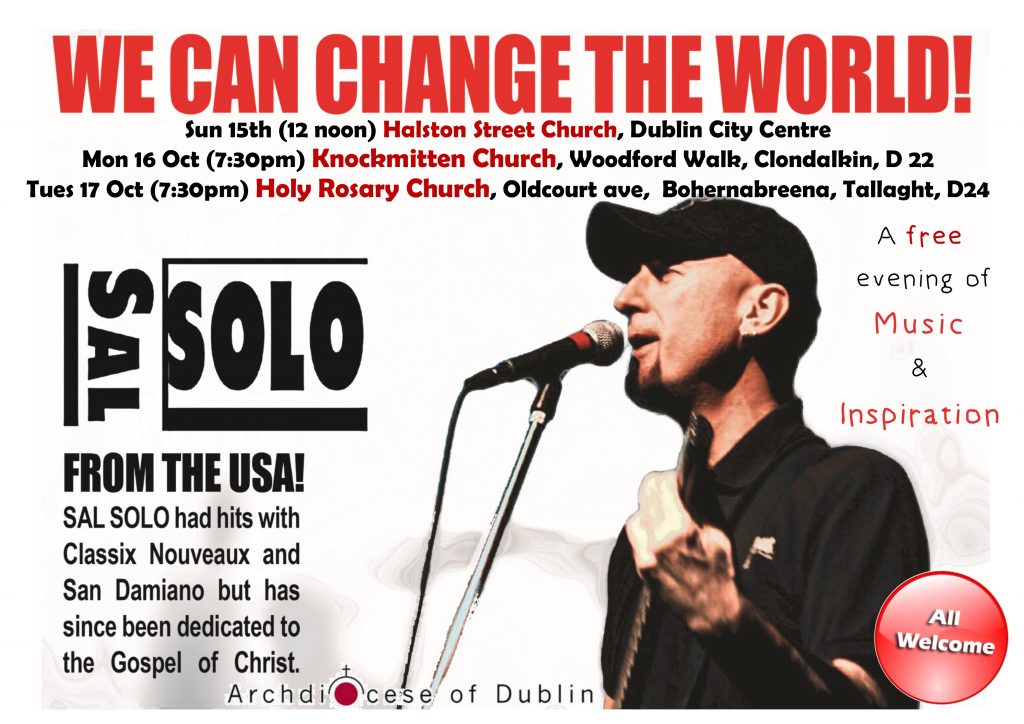 This entry was posted in
News
,
Uncategorized
. Bookmark the
permalink
.