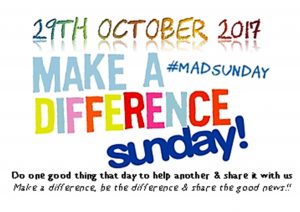 Following on from the success of our first MAD Sunday last year – We are asking everyone to get involved and help us this by taking part in and promoting 'MAD Sunday 2017' – Do one good thing that day for another & share it with us!! – Make a difference, be the difference & share the good news!!"
Make a Difference (MAD) Sunday is an open invitation to everyone – seriously everyone, anywhere, any age, any background, and any religion. This beautifully simple initiative hopes encourage people to consciously do at least 1 good thing that day (or maybe 1 thing each day that week) to help another and then share it.
All the resources for Mad Sunday can be downloaded/printed from: https://1drv.ms/f/s!AtJiw53tHyZ_gctXuy_-rSb-yxtCJA
WHY?
For us, because it is what the Gospel Message is about…
Essentially just because we can – Let's be honest, sometimes it feels good to just do something good for another
For a second just dare to dream what our home, community, city, island, and world would be like if we all did something…
AND
It's great, inspirational at times and encouraging to share a bit of good news with others.
It's a day on which we are encouraging young and not so young, groups or individuals, parents & children, clubs & societies, families & friends, politicians & teachers,… to look out for others and make a small difference in their home, community, school, parish, etc..  To consciously do at least one simple act of kindness and then share it with us You can come together as a group to plan & do something or do something on your own. Big or small – it's up to you! Be creative, get involved, do something and share it with us/everyone!!
If you, your group, your school is interested in doing something there is loads of ideas and resources available – feel free to use, share or adapt to suit!!
Email what you, your group have done or are planning to do to:
post it/photos on our Facebook page @TheCCPCDublin               #MADSunday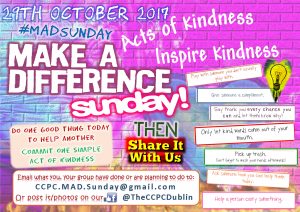 All the resources for Mad Sunday can be downloaded/printed from: https://1drv.ms/f/s!AtJiw53tHyZ_gctXuy_-rSb-yxtCJA
Included in the resources for the day and promoting it there are:
Various posters and promotion material aimed at different ages/groups – just put your parish contacts on them and print out for people to share their acts of kindness!!
Posters & project planning details (& a simple, sample project) you can send to schools or youth groups – There is even a Teacher Challenge and a Class Social Justice Planning project to encourage them to be involved
There is a handout for a few suggestions for Families
If you do decide to mark MAD Sunday with a Youth/Family Mass or Eucharistic Celebration on that day –
There is a simple suggested homily drama (involving 2 people!) that you may like a group to prepare if you're adventurous
There are suggestions for the prayer of the Faithful that you may include or adapt or write your own
There are a number of short PowerPoint, video and written communion reflections that could be used (or create your own)
There is a Parishioner prayer (both poster and prayer card) that you could print out, distribute and maybe include/recite with the congregation in a liturgy on the day.
Originals of the all resources are included so feel free to use, lose, adapt, adopt or share!!
This entry was posted in
News
,
Uncategorized
. Bookmark the
permalink
.