A week of Guided Prayer is being organised with the Diocesan Office for Evangelisation & Ecumenism for the Combined Catholic Parishes of Clondalkin the week beginning Sunday 26th November.
A representative of the team of prayer guides will speak after Communion at a number of the Mass and Churches on the weekend of the 4th & 5th November. This is a wonderful introduction to integrating daily life and prayer. No prior experience of prayer necessary. Anyone interested in taking part is asked to sign up before 14th November.
Information leaflets & Registration forms are available at the back of the church or you can download them from here –
CCPC Guided Prayer Information and Registration Form CCPC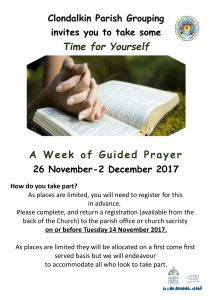 This entry was posted in
News
,
Uncategorized
. Bookmark the
permalink
.