Ecumenical Bible Week  
Ecumenical Bible Week will take place from 20th-27th May 2018.  Now in its fifth year, it is a  parish-based event that is jointly sponsored by the Archdiocese of Dublin, the combined dioceses of Dublin & Glendalough, and other key groups such as Scripture Union.  The theme this year is 'Handing on Faith – Crisis, Challenge and the Great Commission'.
It begins on Pentecost Sunday with the launch event, 'Praying the New Cosmology', and will take place in 13 venues across Dublin and surrounding     areas.
In Clondalkin we have a input on "Bringing the Family to the Table" by Cathy Burke on  Monday 21st May in the Pastoral Centre beside the Village Church.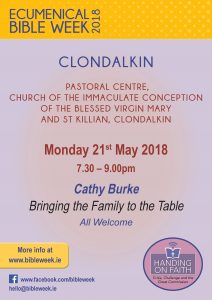 (Cathy is an excellent speaker, passionate about initiatives that seek to engage families in the process of sharing the gift of faith together at the heart of the parish community. Cathy works as a primary teacher by day, is engaged in voluntary catechetical activity in her home parish as part of an active team and also provides spiritual direction.)
There are also two key events take place in Holy Cross College, Clonliffe, Dublin 3 on Thursday 24th May.
Symposium chaired by Brenda Drumm which will include presenters John Waters – 'Taking us Back to the Father'; Ginnie Kennerley – 'The Family Today: Healing and Expansion in Christ'; and Nick Park – 'Modern Family – Ancient Problems'.  Time 2-5pm.  Cost €12.  Pre-registration required at www.bibleweek.ie
'Thinking Allowed'– What have we from our personal experience discovered about living and passion on the faith?  A chaired panel discussion with audience participation.  Panellists will include three married couples from different Christian experiences, Archbishop Eamon Martin (Armagh) and Archbishop Michael Jackson (Dublin).  This is a free event, starts at 7.30pm.
Further information and free downloads and material on www.bibleweek.ie  and on Facebook at www.facebook.com/bibleweekie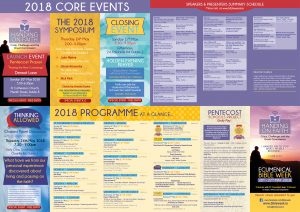 Listen to the Podcast from our own Parish Pastoral Worker, Frank Brown on EBW 2018 and the input he is giving on Tuesday 22nd in Arklow –

Here's a few resources you may find useful
This entry was posted in
News
. Bookmark the
permalink
.